About US
Welcome to Knockout Fitness Christchurch, where WE CREATE AWESOME. We offer a wide range of fantastic fitness and martial arts options, including Personal Training, On line Virtual Training via Zoom, Boxfit classes, Muay Thai Boxing and Self Defence seminars in our own sole use studios right here in Christchurch. Our products and services will get you fighting fit and in the best shape ever!
PERSONAL TRAINER CHRISTCHURCH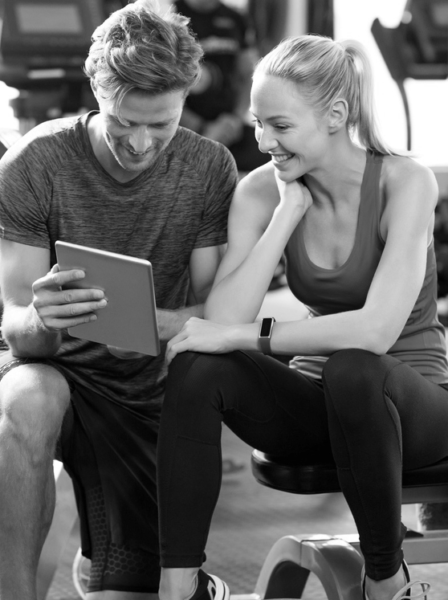 Thank you for visiting and taking the first steps towards achieving your health and fitness goals. Our core focus is on our most valuable asset; YOU! We promise to deliver the very highest levels of personalized service tailored to meet your specific wants and needs. We will get you where you want to go faster! Through motivation, education, and accountability, we will help you create simple changes in your life that builds success and awesome results. Our goal is to make healthier, fitter people who enjoy a better quality of life through exercise and well-balanced nutritional practices. We can help you with weight loss (or gain), general fitness and healthiness,  Muay Thai Kickboxing, boxing/punching skills and sports conditioning.
 Unlike a commercial gym where you can get lost in the crowd,  your sessions are conducted in privacy by appointment only, as none of the studios are available for the use of the general public. This means you get the highest possible level of service and the best quality workout, as all personal trainer sessions can be specifically tailored to meet your individual needs. Our exclusive Christchurch personal training studios are located in Halswell (Knight Stream Park) and our brand new facility in Woolston. Plus, we can now train you from the comfort of your own home using our interactive Zoom PT system. How cool is that? We also offer FREE nutritional seminars with a registered nutritionist and fitness testing modules throughout the year to make sure you are in the best shape possible.
So if you are looking for a Christchurch Personal Trainer or doing on line virtual interactive training (Zoom PT) and getting results faster, then contact us NOW on 0272410426 or info@kotraining.co.nz and come in for a no-obligation complimentary chat to find out how to get in shape, for the rest of your life! Here's what some of our clients have to say.
"I came to Knockout with the intention of losing weight and feeling better. I'm now the lightest I have been in years and feel absolutely fantastic, and all without any funny diets or crazy exercise fads. Thanks guys!" 
Sandra S, Christchurch
BOXFIT CLASSES CHRISTCHURCH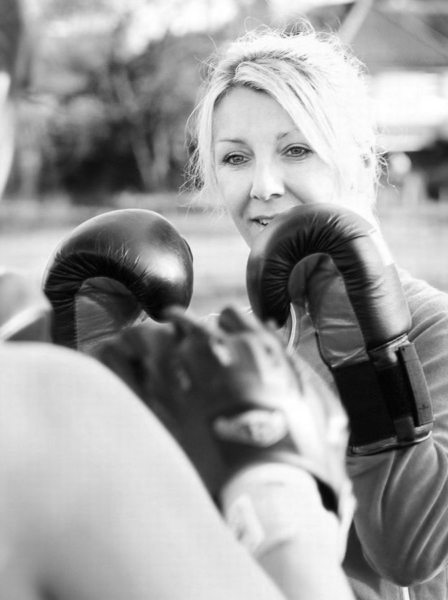 Knockout Fitness specialises in Boxing fitness classes Christchurch, where you get to train like a champion in a safe, non-contact AND non-judgmental environment.
All of our Boxfit instructors are highly trained and have extensive Muay Thai or amateur boxing experience so you can be assured you will learn genuine technique from people who REALLY do know what they are doing. We have a variety of formats and classes so there is something to suit every fitness need and level.
Modern science tells us that the best way to get fit and develop a lean and healthy body is a routine that has both cardio AND resistance training; which is why our Boxfit classes are perfect as they feature both! Sessions times and duration vary between venues and the classes feature mostly boxing combinations on the pads (and occasionally bags) plus some body weight exercises, kettlebells, battle ropes and other weapons of fitness destruction. We have four classes a week at our full time Woolston gym and two weekly classes at the Halswell Community Hub.
We also offer FREE nutritional seminars and fitness testing modules throughout the year to make sure you are in the best shape possible. Regular updates are put up on our Facebook page, Knockout Fitness so "Like" and continually interact to keep up to date with news, photos/videos and any short term changes. Please note, our Boxfit classes are for ages 15 years and up but sometimes we have youth training with Mum or Dad, or even with a friend of similar age. Please ask as it's a case by case thing. If you want to book a FREE week's trial then contact us NOW on 0272410426 or info@kotraining.co.nz.  Please specify which venue you would like to attend. Or, if you like, just SHOW Up to a class and get in to it!
"I just love the Boxfit, I feel like I get a complete whole body workout, every session is different and it's a great bunch of people." Michelle B, Christchurch
"Awesome way to get / keep fit. Great classes, awesome group – loads of fun! Been going for years now – I find it much more fun than hitting the gym. Keep up the great work!" Gavin H, Christchurch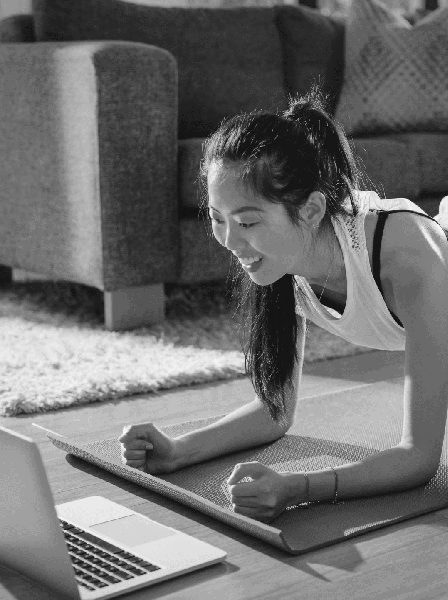 Are you in a situation where leaving the house to make a training session is simply a no-go? Or a busy lifestyle means the demands on your time prohibits the whole exercise thing somewhat? Or perhaps you live away from a population base and going in to town for a workout simply isn't that feasible?
Well our interactive virtual training (Zoom PT) could be right for you! Our Zoom PT sessions are perfect to suit a busy (or travel restricted) lifestyle as you can train from the comfort of your own home, giving you more flexibility and "less excuses" with your exercise routine. There are a whole host of training options and you don't need a bunch of gear, although anything you have at home will be put to good use in these sessions! You can even learn the basics of Boxing and Muay Thai Kickboxing, no equipment required. Unlike a live group feed going out to 100 people or a pre- recorded session,  your trainer takes you through a workout step by step in real time, demonstrating proper technique and watching you every step of the way, LIVE! We sometimes combine striking techniques with body weight and resistance exercises, giving you a full body workout that will get your heart pumping. Or, depending on your wants and needs it might be other cardio options and resistance training, whatever suits! All you need is a decent webcam (laptop, webcam on your PC or a tablet), decent internet connection, a bit of space and away we go.
So if you are looking for a virtual Personal Trainer that's fully interactive and getting results faster, then contact us NOW on 0272410426 or info@kotraining.co.nz to organise a FREE 20 minute trial session. We will take you through the start up steps and iron out any of the bugs in that 1st session. Here's what some of our clients have to say about our Zoom PT.
"I started doing the virtual training in the beginning of the lock down and I have to say I was more than pleasantly surprised with how effective it was. I also don't have to travel, so effectively save myself 40 minutes every time I train. It's so great, thanks!" Paul S, Christchurch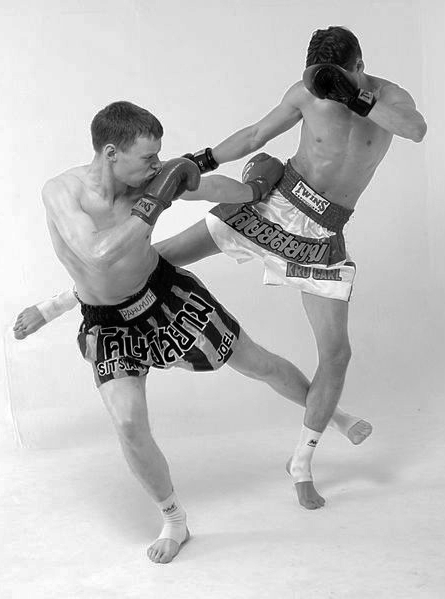 If you have ever thought about taking up Muay Thai (Thai Boxing) or Kickboxing and are looking for the "real deal" then you have come to the right place. Knockout Fitness hosts MSA Sitnarong Muay Thai, a progressive club that still teaches authentic Muay Thai Boxing, right here in Christchurch. Classes are held at our Woolston gym and at the Halswell Community Hub and we offer a membership that allows you to train at both.
It's a great way to get in shape, learn valuable self defence skills and train with a great bunch of people who share common goals with you. You can click through to the full MSA Sitnarong site here  and read a few more details about the club and how things work. We also have promo video in which you can view a short snippet of what a night's training might look like for you.
You can book a FREE week NOW on info@kotraining.co.nz or text/call 027 2410426. We specialise in Muay Thai private lessons too so if you're keen don't be afraid to ask. By the way, MSA Sitnarong also has kids class for ages 5-14 years as we keep the "adults classes" for 15 years and up. Please let us know if you have a youth who falls in to a gap somewhere and we shall what we can do as sometimes it might be possible for your youth to train in the adults classes (please ask).
"Coming from overseas I have been to a few different gyms over the years and I have to say that Sitnarong is by far the best I have been to. Great coaching, great people and great facilities. Can't recommend the place enough".                        Terry T, Ireland
SELF DEFENCE CHRISTCHURCH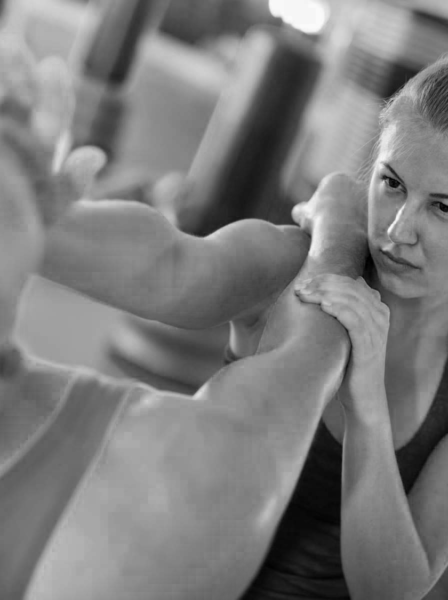 Do you worry every time you come home to an empty house? Or do you have concerns about the safety of your workplace? Well, don't any longer! Knockout Self Defence can equip you with the skills to keep you and those around you safe. Learn effective techniques and gain practical skills in a safe training environment from professionals with over 30 years of combined experience. We specialise in courses for workplaces in and around Christchurch and/or private self defence training for the client wanting that extra special bit of attention or if you have a needs specific issue.
Many employers are in the position where their line of work means employees face a certain amount of risk in the workplace. Sometimes this can't be helped. The good news is that you can make the workplace safer by putting the troops through one of our needs specific self-defense courses. We can tailor a course to suit your specific needs, ensuring you have the best possible practising standards for your staff getting to and from work and also being able to carry out their daily duties with precision and confidence. Over the years we have helped medical centers, shift workers, ambulance staff, special needs teachers and care givers to name but a few. Show you care by contacting us on info@kotraining.co.nz to discuss training options and organising a no obligation quote. We have our own venues available but can come to you if that's what is required.
"I want to thank you so much for the session you did for us at CCT. I felt like we all learned so much and your teaching style was amazing- you were really clear in your instructions and made us all feel so comfortable and you're so pragmatic about the kind of things that can happen. I can't recommend this training highly enough. Many thanks" Claire, Christchurch
Fees
We have a wide range of options including a fantastic package to combine Personal Training with Boxfit and Muay Thai Boxing (VIP package). Plus we offer a super duper special where you can get Boxfit classes for only $9.95 a week and you can train at both gyms (conditions apply, see below). Boxfit is also included in ALL Muay Thai memberships. Please note, we NOW offer a contract option for Boxfit that also allows you to train at both venues. For Muay Thai adults classes there is a $50.00 joining fee (t-shirt included). Contracts are for one year and flexi memberships can essentially be stopped at any time (see below for more details).
Woolston fee schedule
Boxfit super special                                              $9.95 per week*(both gyms)
Boxfit flexi membership                                     $17.50 per week (includes Halswell)
Boxfit 1 year contract (both gyms)                  $12.90 per week
Muay Thai flexi membership                             $32.50 per week
Muay Thai 1 year contract                                   $27.50 per week
Combo Muay Thai flexi membership              $35.00 per week (Woolston and Halswell)
Casual to any class                                                $17.00 per class
Halswell Fee schedule
Boxfit super special                                              $9.95 per week* (both gyms)
Boxfit flexi membership                                     $17.50 per week (includes Woolstoon)
Boxfit 1 year contract (both gyms)                  $12.90 per week
Muay Thai flexi membership                             $26.00 per week
Combo Muay Thai flexi membership              $35.00 per week (Woolston and Halswell)
Casual to any class                                                $17.00 per class
Please note; MT memberships are only available as "flexi" for Halswell and also Hals/Wool combined
Personal Training 30 minutes                             1st weekly session $52.00, add $35.00 per session thereafter as part of V.I.P. (Boxfit and Muay Thai included, ask about "casual" rates)
Personal Training 45 minutes                             1st weekly session $72.00, add $55.00 per session thereafter as part of V.I.P. (Boxfit and Muay Thai included, ask about "casual" rates)
Online Zoom PT                                                      $35 for 30 minutes – flat rate
*$9.95 special is for a fixed 12 week period via direct debit and automatically rolls over to a standard Boxfit flexi membership (Woolston and/or Halswell only), unless we hear from you ONE WEEK  before your special is due to expire. It is also a one time purchase and not valid for current or previous members. **For personal training your best option is the V.I.P. system where you pay a weekly $17.00 "retainer" by direct debit then pay your trainer direct for your sessions ($35.00 per 30 mins or $55.00 per 45 mins). You do have the option as a "casual" if you are someone who needs to travel for work for example and can't be here on a super regular basis. Please ask about this. All group fitness memberships are paid by direct debit so please bring your bank details when wanting to join. Fees are paid as long as you consider yourself an active member and managing your membership is your responsibility; you need to advise us in writing 10 days in advance if you need to suspend or cancel your membership. Many thanks and see you at training.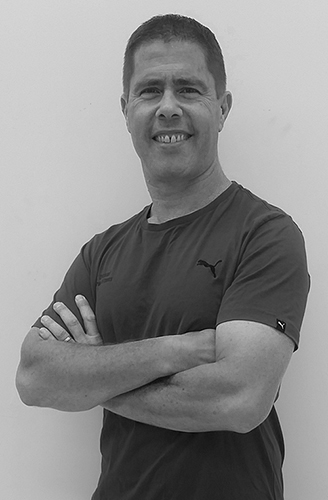 DOUGAL MCKENZIE
Founder and director of Knockout Fitness, Dougal has a diploma in Exercise Prescription (distinction) and graduated as top student two years in a row from NZ Institute of Sport. He is one of the most experienced personal trainers in Christchurch with countless clients achieving over and above their expectations. Dougal knows how to get the best from people and to maximise the use of what time is available. He makes sure all workouts are personalised to the wants and needs of the client and keeps them interesting and fun. To go with his 19 years personal training experience Dougal has over 25 years martial arts training and teaching and is the head instructor for MSA Sitnarong Muay, the Thai Boxing club hosted at Knockout Fitness Woolston and Knockout Fitness Halswell.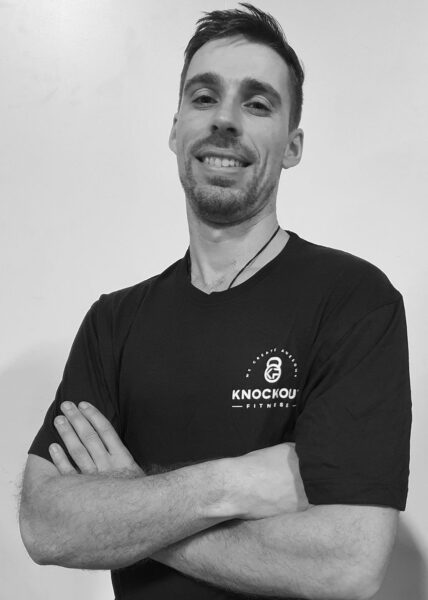 CALLUM REID
Callum has a certificate in personal training (graduated from Ara) and takes a new school approach in his training methods, incorporating the latest H.I.I.T. techniques and combining this with his knowledge of resistance training and calisthenics to leave you with a workout that is both physically challenging but also very enjoyable. It will leave you feeling great and on your way to ticking off your fitness goals. Whether you are new to box fit or you are experienced, Callum's classes will continue to develop your strength and fitness levels. So come along and bang it out on the pads and feel the burn!
Testing
Every two months on a Saturday morning we run a COMPLIMENTARY fitness testing module at the gym so you can track your progress. Designed by leading personal trainer and head Christchurch Instructor Dougal McKenzie, this specialty test will help you track your fitness gains from attending the Muay Thai and Boxfit classes. It features a mix of cardio and strength/muscular endurance challenges which will test your limits and help you plot your progress. Whether you be a fighter or fitness weekend warrior, this testing is for you and is included in your fees so get among it. Next testing date coming soon. Please enquire if you're interested in coming along or if you are a non member and wish to attend as a small surcharge applies.
Nutrition
Do you struggle with knowing what to eat, when to eat it and of course how much you should be eating? Well never fear, as the answer is right in front of you AND included in your fees! We have an in house registered nutritionist who runs thrice yearly one hour long COMPLIMENTARY nutritional seminars. Taken by registered nutritionist Bek Parry,  these seminars are aimed at helping you get the best from your weight management and sports performance nutrition. We run these sessions at the gym on a Monday night in early autumn, winter and late spring and remember, if you are a former or current member they are FREE and a small surcharge applies for non members/clients. Next date, Monday 20th June, lock it in folks!
Contact Us
Texting or calling is always great and you can reach Dougal on 027 2410 426 or email us at info@kotraining.co.nz and we will get back to you ASAP.