About US
Welcome to Knockout Fitness Christchurch, where WE CREATE AWESOME. We offer a wide range of fantastic fitness and martial arts options in our THREE venues, including Personal Training, Boxfit classes, Muay Thai Boxing and Self Defence seminars. Our products and services will get you fighting fit and in the best shape ever!
Fees
We have a wide range of options including a fantastic package to combine Personal Training with Boxfit and Muay Thai Boxing (VIP package). Plus we offer a super duper special where you can get Boxfit classes for only $9.95 a week (conditions apply, see below). Boxfit is also included in ALL Muay Thai memberships. Please note, Boxfit is only offered as a "flexi" type membership at $18.50 per week (includes access to Woolston and/or Halswell Boxfit). Contracts are for one year and flexi memberships can essentially be stopped at any time.
Boxfit super special                                              $9.95 per week*
Boxfit flexi membership                                     $18.50 per week (Halswell and/or Woolston)
Muay Thai flexi membership                             $30.00 per week (Woolston only)
Muay Thai flexi membership                             $23.50 per week (Halswell only)
Muay Thai flexi membership                             $35.00 per week (Woolston and Halswell)
Please note; MT memberships are only available as "flexi" for Halwell and also Hals/Wool combined
Muay Thai 1 year contract                                   $25.00 per week
Personal Training 30 minutes                             1st weekly session $50.00, add $35.00 per session thereafter (Boxfit and Muay Thai included)
Personal Training 45 minutes                             1st weekly session $70.00, add $55.00 per session thereafter (Boxfit and Muay Thai included)
*$9.95 special is for 12 weeks via direct debit and automatically rolls over to a standard Boxfit flexi membership, unless we hear from you ONE WEEK  before your special is due to expire. It is also a one time purchase and not valid for current members. All group fitness memberships are paid by direct debit so please bring your bank details when wanting to join. Many thanks and see you at training!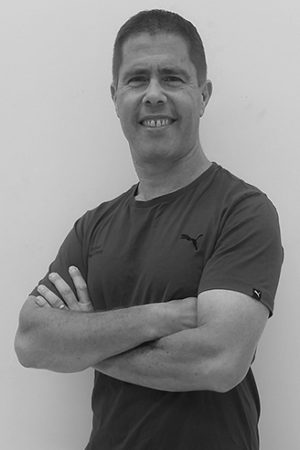 Dougal McKenzie
Founder and Director of Knockout Fitness, Dougal is the master of the shorter Personal Training sessions. He knows what it is like to be under time constraints and how to fully maximize what time is available. A leader in the field of Personal Training in Christchurch, he has over 20 years martial arts training and teaching and is the head instructor for MSA Sitnarong Muay, the Thai Boxing club hosted at Knockout Fitness Woolston and Knockout Fitness Halswell.
He has always lived an active lifestyle and loves all aspects of exercise, whether it be for sport, leisure, or recreation.
Dougal is committed to helping people from all walks of life towards achieving their goals; from the individual looking to improve their general health and fitness right through to the elite athlete.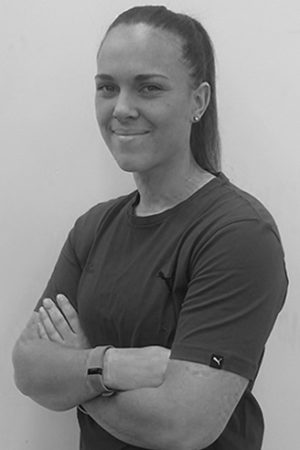 Sinead Direen
Sinead has a strong sporting background with her main interests being Netball and Boxing. She has been boxing training for the last four years and has competed in two South Island Boxing championships with a view to more competition in the near future. As well as taking clients for personal training sessions, Sinead also takes the Wednesday morning circuit Boxfit class.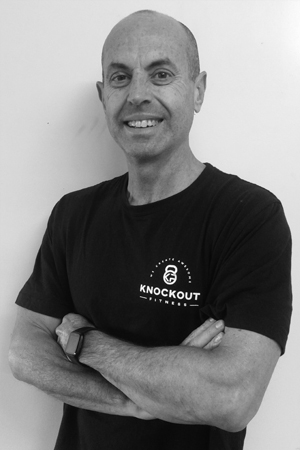 Andrèa Benedetti
Andrèa began his sporting career as a professional water polo player in Italy in 1984. After playing for 10 years at this advanced level, he progressed to become a world-class water polo coach. In 2004, having emigrated from Sicily to New Zealand, Andrèa studied at Christchurch polytech and gained a (Level 5) certificate in fitness industry training. Over the last seven years, he has worked as a fitness trainer and a swim instructor for the Christchurch City Council. Andrèa can help you to achieve your goals and assist you with a variety of different issues he specializes in including reducing body fat, toning your muscles, identifying which exercises are right for you and improving your overall fitness, health and emotional well being. He is now the manager for the Redwood branch of Knockout Fitness.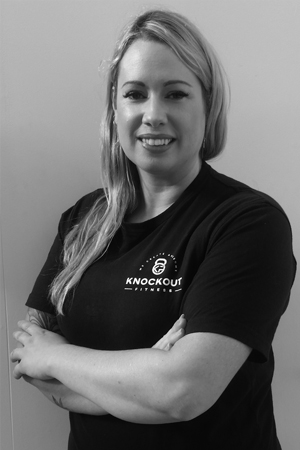 Olivia Martyn
Without a doubt one of the most bubbly, enthusiastic and passionate people you will ever meet! Liv has a drive and verve matched by few and this always come through in her Tuesday night Boxfit Punch classes. Come down and experience some of her infectious enthusiasm as she puts you through a combination of punching drills and bodyweight exercises guaranteed to get your heart and soul pumping!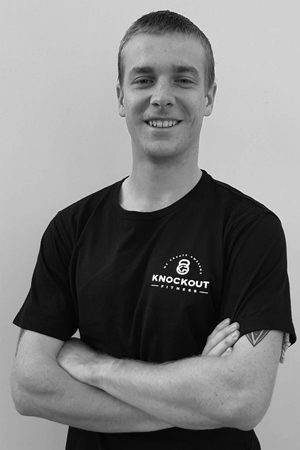 Bryce Fairweather
He's in the army, he's fit, lean and he's keen to pass on his knowledge! Bryce takes our Thursday night Boxfit circuit classes and loves passing on the considerable punching knowledge he has picked up in his two years of Muay Thai training. He's also studying his degree in sports coaching and loves pushing you hard (but not too hard?) to get the max from your sessions. Bryce is now doing one on one sessions for Muay Thai, please enquire.
Testing
Every two months on a Saturday morning we run a COMPLIMENTARY fitness testing module at the gym so you can track your progress. Designed by leading personal trainer and head Christchurch Instructor Dougal McKenzie, this specialty test will help you track your fitness gains from attending the Muay Thai and Boxfit classes. It features a mix of cardio and strength/muscular endurance challenges which will test your limits and help you plot your progress. Whether you be a fighter or fitness weekend warrior, this testing is for you and is included in your fees so get among it. Next testing date coming soon. Please enquire if you're interested in coming along or if you are a non member and wish to attend as a small surcharge applies.
Nutrition
Do you struggle with knowing what to eat, when to eat it and of course how much you should be eating? Well never fear, as the answer is right in front of you AND included in your fees! We have an in house registered nutritionist who runs thrice yearly one hour long COMPLIMENTARY nutritional seminars. Taken by registered nutritionist Bek Parry,  these seminars are aimed at helping you get the best from your weight management and sports performance nutrition. We run these sessions at the gym on a Monday night in early autumn, winter and late spring and remember, if you are a current member they are FREE and a small surcharge applies for non members/clients. Next seminar Monday 14th October!
Contact Us
Texting or calling is always great and you can reach Dougal on 027 2410426. You can contact Andrea Benedetti direct for anything Redwood related on 021  2345289 or email benedetti63@msn.com, or fill out the form below for more information on Halswell and Woolston. Many thanks.
Contact Us - For all Halswell & Woolston inquiries